With our investment and the use of appropriate graphics software programs, such as Corel Draw, Adobe Illustrator, Photoshop, etc, our designers combine text and graphics to communicate effective messages in the design of our customers' job. In this area of speciality, we offer; Digital Color Printing, Digital Black and White Printing, Graphic Design and Typesetting, Book planning and Editing, Concept Generation/Designs, High Resolution Scanning, Color Correction and Retouching (Color Management).
Our 1-4 Offset Color presses allow us to deliver fast service at the lowest prices. Our four color presses can handle over 6,000 impressions each per hour and a wide variety of prints. With our arrays of machineries, we can produce; Annual Report. Book, Brochures, Business Card, Calendar, Greeting Cards, Catalogues, Certificates, Complimentary notes, Corporate / General Identity Cards, Desk Pad, Flyers, Folder, Journals, Labels, Letterheads, Magazines, Manuals, Posters, Programme of Events, Prospectus, Spiral Memo Pad, Textbooks and Exercise Books, etc.
We advice and produce promotional materials for purposes of advertising, corporate gifts, marketing, publicity, prodct launch, events management , etc and we have a variety of items to meet the desired objective. Our services in this specialty will definitely have a great impact on the sales of your organisation and impressie impact on your corprate image.
Perfect finishing completes a good jod order. With our arrays of finishing machines, we can gaurantee our customers perfect finished job. We add value to print works such as; Foil Stamping, Embossing - Hot Foil, Creasing, Laminating, Perforating, UV Coating, etc. In addition, we offer a range of Post-Press Services like; Case Bound and Bookbinding business, Packaging, Packing boxes, Packing materials, Paper handbags, Spiral Bindings.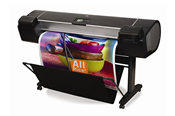 We offer large format print services with capabilities to output your designs up to 72'' wide and infinity length. we can print on a variety of media including: Fabric or Metallic Material, Vinyl, Canvas, Gloss or Semi-gloss Paper, to mention a few. We also mount and install. This aspect of printing is perfect for Banners (Pops-ups./Roll-ups), Signs, Promotion Stands, Exhibition Graphics, Training Presentations, Corporate Functions Backdrops, Trade Shows, Seminar, Kiosks Displays, Billboards, Courtroom Exhibits and Other Special Events.